Welcome to the annihilator!
You are well on your way to becoming the envy of all your friends.
We all this model:
"THE ANNIHILATOR"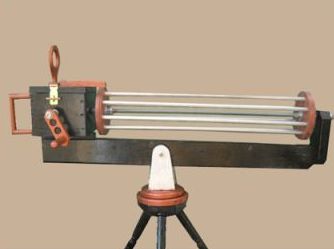 A 100 Shot Rubber Band Gatling Gun
Over 3 feet high and 40 inches long!
The ANNIHILATOR was developed because virtually no rubber band Gatilng gun designs are available that do not require the use of those expensive plastic gears.
All Gearings on this design are made out of wood.
Any woodworker should be able to follow these easy to understand directions.
Your success on this project is very important to us.
We are including an Email Address that connects you directly with the designer of The ANNIHILATOR. If you have questions during your build, feel free to contact him. All Emails will be personally answered by him.
Well... what are you waiting for?
Let's get busy!
100 round rubber band gatling gun!
Our Rubber Band Guns will be the life of your parties! Who wouldn't want to stand behind a Gatling Gun sending off a hundred rounds - 100 Shot Rubber Band Machine Gun. Our fun, affordable wood working projects are made with wood and NOT those Expensive Plastic Gears. You don't have to be a Craftsmen. You're sure to amaze friends with our Fancy Fly Swatter!